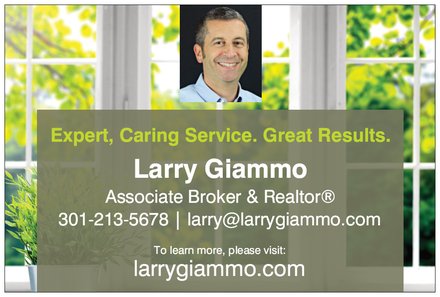 Thinking of selling or buying a home? Please contact me.
If you'll be selling your home, let's talk – at no obligation – about current market conditions, what's important in selling a home, how to best prepare your home for sale, and the advantages I'd bring as your real estate agent.
And, whenever you know a family member or friend is looking for a real estate agent they can count on and trust, I'd appreciate your referral.
I look forward to hearing from you. Thank you!
Larry Giammo
Associate Broker & Realtor
Residential & Commercial Real Estate
Member of:
Greater Capital Area Assoc. of Realtors
Maryland Assoc. of Realtors
Maryland
License # 645172
Washington, DC
License # SP98375766
Virginia
License # 0225219837